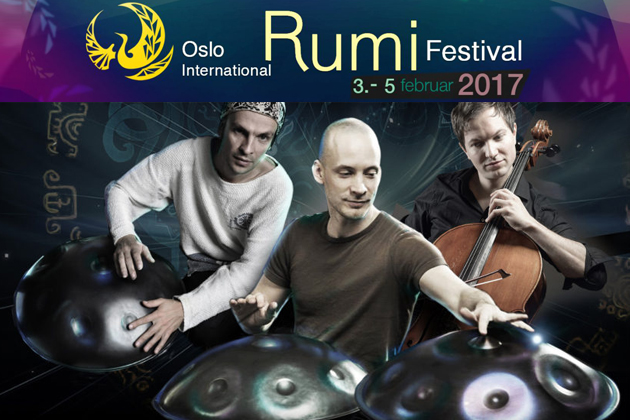 Rumi festival 2017: The Nadishana Trio
The Nadishana Trio are three sonic travellers on their journey through scapes of ancient Kuzhebar, present ethno world fusion and future ambients melt their musical identities into one sound.
Born in three different regions of the planet they came together to share their wide-spanned instrumental skills, blending exotic sculptures with earthy grooves and distinctive melodies, creating mind-shifting rhythms played with trancey facileness.
This trio is exploring the possibilities of the Hang drum and other handpans in the context of ethnic woodwinds, world percussion and cello. Each member of the trio is well known in the world music community as a virtuoso performer and composer. Combining their skills, Vladiswar Nadishana (Nadishana plays more than 200 instruments of the world, including self-created ones.), David and Stephan are bringing fresh vibe to the world-fusion scene.
—
From the 3rd – 5th of February we celebrate the Oslo International Rumi Festival 2017 at Victoria Nasjonal Jazzscene.
This ninth edition of the Rumi Festival focuses on «home», and we welcome you to concerts, theatre performance and poetical reflections related to this theme. Making our home in two worlds as one, both the traditional and the contemporary. This year our guests will take us on a journey from deserts to a high-rise flat, each sharing with us their concept of home.
Vi anbefaler også: