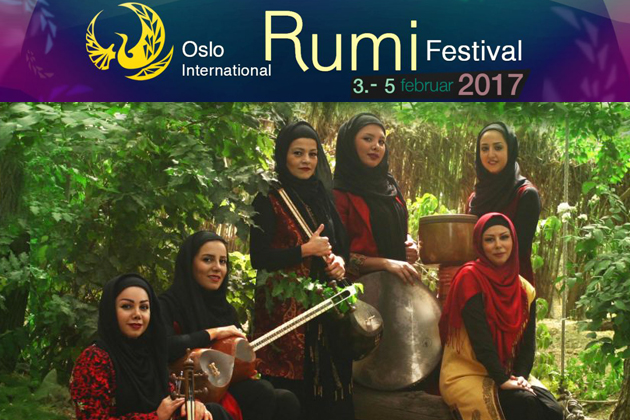 Rumi festival 2017: Opening & Avaya Sahra ensemble
The ninth Rumi festival focuses on «home» – home is a figurative space that gives comfort, safety and warmth.
The Avay-e Sahra Ensemble is a traditional and folk Iranian music group. The group is comprised of six experienced women musicians. They have been performing together since 2015. This concert is made up of two parts: Persian classical and folk songs; and the melodies of Khorasan, which is a region lying in northeast Persia. With both sides of their repertoire Avay-e Sahra come together with their aim of keeping alive the old classical melodies as well as sharing the folk music of their home. Elham Karimi (singer) , Padideh Ahrarnejad (tar), Ava Ayoubi (oud), Shima Boloukifar (kamancheh), Mojgan Abolfathi (daf) and Nazanin Pedarsani (tonbak) are the members of Avay-e Sahra.
In 2017 Oslo International Rumi Festival welcomes you to concerts, theatre performance and poetical reflections. Making our home in two worlds as one, both the traditional and the contemporary. This year our guests will take us on a journey from deserts to a high-rise flat, each sharing with us their concept of home.
We once again host a space that creates a warm environment where different cultures, traditions and art forms meet. Come on in. Welcome home.
On the program this year, you can experience Avaye Sahra, Jane English, Faran, Getak, and Nadishana.
Mer info kommer, se: www.rumi.no
Vi anbefaler også: