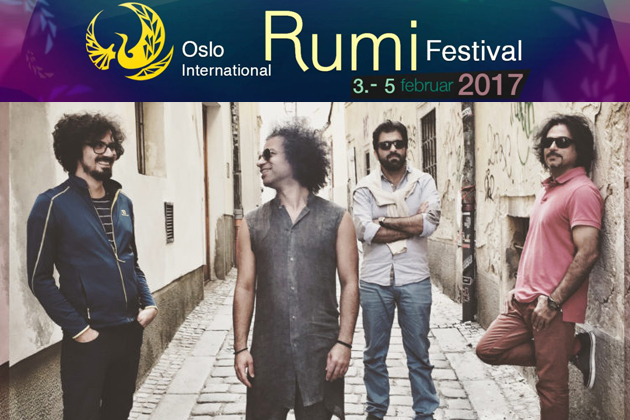 Rumi festival 2017: Getak
We are very happy to finish off the Oslo International Rumi Festival 2017 with this energetic and powerful celebration of a concert by Getak.
Getak is a South Iranian band, from the region Boushehr. The name comes from a specific type of bush that grows in salt marsh despite all environmental limitations. Boushehr for years has been the residence of various tribes and nations that have migrated for different reasons such as business, immigration and also military occupancy. For example, after the African slaves' entrance into Boushehr, most parts of Boushehr music have been affected by black Africans. Concurrently, it has been blended with different types of modern music such as Funk and Jazz.
The aim of Getak Group is to introduce instruments and various kinds of Boushehr music to its' international audience.

Habib Meftah Bushehri (percussion, vocals), Mohsen Sharifian (bagpipe, vocals), Mahan Mirarab (guitar, oud), and Mohammad Khodadadi (ney, vocals) are the members of Getak.
—
From the 3rd – 5th of February we celebrate the Oslo International Rumi Festival 2017 at Victoria Nasjonal Jazzscene.
This ninth edition of the Rumi Festival focuses on «home», and we welcome you to concerts, theatre performance and poetical reflections related to this theme. Making our home in two worlds as one, both the traditional and the contemporary. This year our guests will take us on a journey from deserts to a high-rise flat, each sharing with us their concept of home.
Vi anbefaler også: