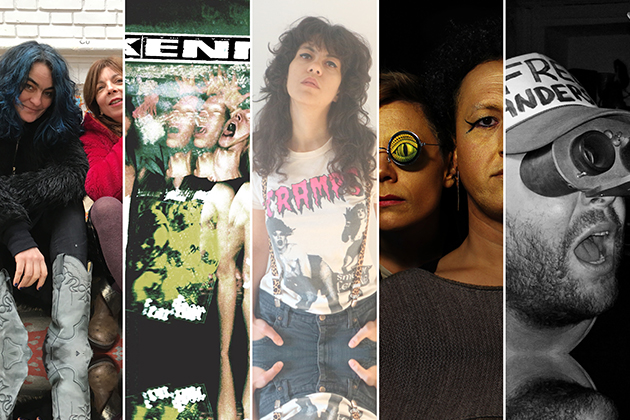 All Ears 2019 – Friday
Great music for all ears!
fredag 11 januar 2019
19:00
18 år. Dørene åpner kl. 18.00
400/300
Day 2 of All Ears 2019. Doors: 18:00, the first concert starts at: 19:00
PROGRAM:
Marcella Lucatelli + Kennel + NYX: Sophie Agnel/Angélica Castelló/Isabelle Duthoit + The Liz + Intermezzos by Kresten Osgood
Priser: Festivalpass: 900/600, dagspass: 400/300. Arrangør er All Ears, NJS sesongkort gjelder ikke
The Liz er en improvisasjonspowertrio fra Berlin, som med multimediaverket Book of Birds forente de store motsetningene. Vi blir med dem dypere inn i søken etter identitet og mening.
Liz Allbee – quad-trompet, Liz Kosack – keys, Korhan «Liz» Erel – sampler, keys
Kennel omtales som et godstog fra helvete og vil rive deg ut av komfortsonen. Det er likevel komplett umulig å ta ørene og øynene vekk fra bandet, som tar over sansene dine på fascinerende vis.
Ottar Skifte – vokal, Morten Minothi Kristiansen – gitar, Andre Drage Haraldsen – trommer, Espen Fladmoe Wolmer – trommer
NYX er en svært spennende elektroakustisk trio hvor det dykkes etter perler i dypet av pianoet med klarinetten som snorkel! Eterisk musikk fra dypet.
Sophie Agnel – piano, Angélica Castelló – paetzold, tapes, elektronikk, Isabelle Duthoit – klarinett, stemme
Marcela Lucatelli har fått sine verker fremført av DR VokalEnsemblet og Neue Vocalsolisten Stuttgart og er hyllet for sin innovative, sensuelle og politiske musikk. Her får du høre hennes egen unike, kontrastfulle stemme og udefinerbare groove!
Marcela Lucatelli – vokal
Kresten Osgood er en av de sjeldne som både eier og trosser sjangergrensene. Han har trommet med alle de største improjazzistene, men har også en kaleidoskopisk karriere som rapper, komponist, pianist, vokalist, radio- og tv-vert og mye, mye mer! I kveld har han fått ansvaret for pausemusikken mellom bandene!
Kresten Osgood – rytmeinstrumenter, blåseinstrumenter et al.
IN ENGLISH:
THE LIZ
The Liz is an improvising power trio of exceptional unity working together to cross over boundaries of media, gender, genre, culture, and species: using hybrids to spawn a single vision.
The Liz formed in 2014 as an experimental constellation for the KIM collective series, and went on to produce «Book of Birds», a multimedia masterwork which explores the search for identity and purpose through a collage of myths and texts, sewn together with strange visuals and raw improvisation. As an improvising trio, they have been invited to perform at Ausland, Sowieso, and Spektrum. They are all Berliners, in that they are transplants, enjoying the cross fertilization of the city.
Liz Allbee – quad-trumpet, Liz Kosack – synthesizers, Korhan «Liz» Erel – sampler, synthesizer, drum programming
KENNEL
Two drummers, electronics and vocals make up the band Kennel – a freight train from hell; visceral, extreme, and impossible to take your ears and eyes away from once going. Minothis howling and frantic noise pierces through the sonic walls of thunder produced by the drummers Espen Wolmer and Andre Drage, all whilst vocalist Ottar Skifte conjoins the mix into a vortex filled with angst, unease, adrenalin and sadistic control. Kennel is a gut wrenching performance that will rip you out of your comfort zone.
Ottar Skifte – vocals, Morten Minothi Kristiansen – guitar, Andre Drage Haraldsen – drums, Espen Fladmoe Wolmer – drums
NYX — SOPHIE AGNEL/ANGÉLICA CASTELLÓ/ISABELLE DUTHOIT
«We are unsure whether the music of this trio comes from heaven or hell» writes the ArtActs Festival about NYX' performance in 2017. Agnel tickles the ivory, dives deep into the piano's gut and finally offers us a special voyage to space. Duthoit first screams, cries, gargles and curses, then grabs her clarinet only to wring and stretch it, producing sounds which, eyes closed, we cannot discern from her own voice. And finally comes Castelló, an amazing sound designer, adding electroacoustic pearls to this masterful ménage à trois. Witchcraft!
Sophie Agnel – piano, Angélica Castelló – paetzold, tapes, electronics, Isabelle Duthoit – clarinet, voice
MARCELA LUCATELLI
Marcela Lucatelli is already hailed as one of the most innovative vocalists and composers of her generation. Born in Brazil and based in Denmark, Marcela has earned international recognition for her extremely original, sensuous and politically charged performance works.
Her pieces are currently performed by vocal elite groups such as the Danish National Vocal Ensemble and Neue Vocalsolisten Stuttgart, together with some of the most edgy ensembles and music collectives in the world, such as Apartment House (UK), Bastard Assignments (UK), Mocrep (US), Hidden Mother (SE) and The Riot Ensemble (UK). Her works have been premiered at diverse festivals and international events such as Donaueschinger Musiktage, Darmstadt Internationale Ferienkurse für Neue Musik, Nordic Music Days, KLANG – Copenhagen Avantgarde Music Festival, Copenhagen Jazz Festival, FILE – Electronic Language International Festival, Limmitationes, WOMEX, among other events worldwide.
Her critically acclaimed first album PHEW! – The Last Guide for a Western Obituary shows her notorious vocal skills and conceptual irony synthesized in groundbreaking contrasts and unclassifiable grooves.
KRESTEN OSGOOD: INTERMEZZOS AND IN CONCERT WITH BARNAS JAZZHUS
Kresten Osgood is one of these people who at the same time defy and totally own categories. An extraordinary drummer and improviser who with the fullest respect to tradition, challenges it at any given moment of his creative endeavors. He has about a 100 albums to his credit, toured practically everywhere, has been performing and/or recording with legends like Roscoe Mitchell, Paul Bley, William Parker, Joe Lovano, Derek Bailey, Wadada Leo Smith, Jason Moran, Kenny Barron, Kurt Rosenwinkel, Marc Dresser, Peter Brötzman, Joshua Redman, Brad Mehldau, Mats Gustafsson, Dr. Lonnie Smith, Sam Rivers, Henry Grimes, Yusef Lateef, Masabumi Kikuchi, Ran Blake, and many many others. But even that does't really cover the full spectrum of what he has been up to in his career. A successful rapper, composer, pianist, vocalist, saxophonist and trumpeter, a true multi-instrumentalist, a powerful organizer being an extremely important driving force in lifting and pushing the music life in Copenhagen forward, entertainer with his own shows in TV and radio, receiver of countless awards and honors, and if that's not enough he even has a chapter dedicated to him in one of the most prominent Danish cook Jakob Mielcke's cookbook. Oh, and he played rock'n'roll at the Danish crown prince Frederik's wedding. A very sharp kaleidoscope man, regardless of the context always realizing his fullest potential.
At the festival Kresten will be playing intermezzos between the other Friday acts. He will also do a workshop and a concert together with Barnas Jazzhus. Barnas Jazzhus is led by Odd André Elveland since and is an extremely important institution for kids who want to learn the traits of the jazz tradition. The organization produces concerts on a regular basis where the next generation can gain experience.
Vi anbefaler også: